Civil Partnership Ceremony in Essex
Indulge in the unparalleled charm of a civil partnership ceremony at Newland Hall, where your union is celebrated with utmost joy and love. Within our exquisite wedding venues in Essex, a selection of rooms awaits you, each with its distinct personality and picturesque backdrop. As the premier choice for a civil partnership in Essex, we offer an idyllic setting for couples to publicly affirm their bond before their family and friends.
With over two decades of experience, Newland Hall has been a cornerstone of crafting dreamlike civil partnership ceremonies. Whether within the grandeur of our grade two-listed Tudor manor house or amid the serene embrace of our woodland surroundings, we promise an unforgettable experience. As one of the most sought-after civil partnership venues in Essex, reach out to us to explore our ceremony packages or arrange a viewing.
100% Guaranteed Exclusive Use
Locations for Your Civil Partnership Ceremony
Your special day deserves a venue that resonates with your unique style and the season's essence. At Newland Hall, we take pride in offering a diverse array of spaces for your vows:
Henry VIII Room – This room exudes charisma with its original hand-carved Tudor beams and captivating views of our lush gardens. An ideal choice for those seeking civil partnership venues in Essex that exude character and charm.
Marquee – Envision an outdoor ceremony? Our permanent marquee beckons, adorned with enchanting twinkling lights and ample space for all your guests. A captivating choice for any season, ensuring your civil partnership in Essex is nothing short of magical.
Outdoor Gazebo – For an intimate connection with nature, our custom-built gazebo awaits in the gardens. Its placement invokes natural beauty, and an optional canopy guarantees comfort even if the weather takes a turn.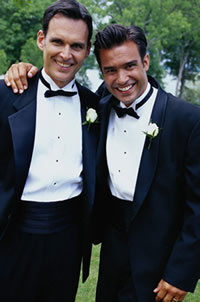 Your Ceremony
For a civil partnership in Essex, we offer a range of options akin to our other wedding ceremonies, including traditional or cosy and intimate setups. Your experience encompasses a ceremony, wedding reception drinks, canapés on the lawn, and a grand reception upon your guests' arrival.
Opt for tradition, and indulge in a full day of celebration, beginning with a ceremony around 2.30 pm. A lavish three-course wedding breakfast with champagne precedes an evening party adorned with a buffet. This civil partnership venue in Essex accommodates up to 150 guests during the day and up to 200 in the evening, allowing you to embrace your loved ones wholeheartedly.
Prefer an intimate affair? Our intimate package crafts a relaxed atmosphere, commencing around 11 am. From the ceremony to lunch, this option concludes around 6 pm, ensuring ample time to revel in your newlywed status.
Choose Newland Hall for Your Civil Partnership Ceremony
Situated just 4 miles west of Chelmsford, Newland Hall's woodland backdrop places us amongst the finest civil partnership venues in Essex. If you're a local guest or travelling from afar, our venue offers unmatched convenience, amenities, transport, and accommodation. A traditional marriage ceremony or civil partnership Essex celebration here promises memories to treasure.
Our commitment lies in tailoring cosy & intimate wedding packages to match your unique desires. From our Henry VIII Room to the marquee, our decorators are at your service, ensuring your vision blossoms into reality. We're devoted to making your day truly unforgettable. Reach out to discuss your dreams further or explore our pricing page for insights. Your questions are always welcome.
Newland Hall Civil Partnership FAQs
What distinguishes a civil partnership from a wedding?
A civil partnership offers a wonderful alternative to a traditional wedding, enabling couples to openly declare their commitment in the presence of cherished family and friends. At Newland Hall, our splendid Tudor manor house and picturesque gardens serve as the idyllic setting for this significant milestone. While both civil partnerships and weddings signify the union of two hearts, civil partnerships provide couples with a distinct option to celebrate their love.
Can we customise the ceremony to reflect our preferences?
Absolutely! We understand the importance of personal touches. Our diverse spaces, including the Henry VIII Room and the marquee, offer opportunities for customisation. We're dedicated to weaving your vision into every detail, crafting an experience that speaks to your heart.
How do we start planning our dream civil partnership at Newland Hall?
Initiating your journey with us is simple. Reach out to our friendly team, and we'll be delighted to assist you. From discussing ceremony packages to addressing any queries, we're here to ensure your civil partnership Essex celebration is as magical as your love story.